Manic Street Preachers
MANIC STREET PREACHERS
is rated out of
5
by
6
.
Manic Street Preachers have announced the release of a special edition 'Everything Must Go 20' box set to celebrate the album's 20th Anniversary.
The deluxe reissue includes fully restored footage of the band's entire 1997 Nynex Arena performance available for the first time, as well as the remastered album and b-sides on CD, the album on heavyweight vinyl, an exclusive new film 'Freed From Memories' directed by Kieran Evans, the official music videos for 'A Design For Life', 'Everything Must Go', 'Kevin Carter' and 'Australia' and a 40-page book of unseen photos.
Also available will be a double CD comprising the remastered album and the Nynex Arena audio, also available for the first time.
Both box set and double CD will be released on 20th May, while 1,000 signed copies of the box set are available to preorder from the Manics' store now here: http://store.manicstreetpreachers.com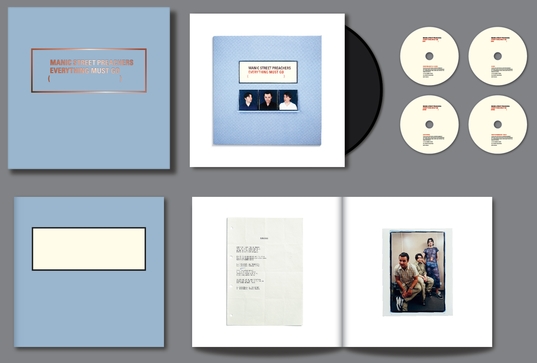 What people are saying about Manic Street Preachers
Rated

5

out of

5
by
Kirstea
from
One of the best moments of my life.
I was lucky enough to see my favourite band ever play one of their most iconic albums in full at both the London Roundhouse and Cardiff Castle (which was made even more special as it was on my birthday and wedding anniversary). It really was a dream come true to hear songs like Yes, Die In The Summertime and Archives Of Pain which are rarely played at other Manics gigs. I wasn't lucky enough (or quite old enough) to hear them the first time around, when Richey was still in the band. My highlights were probably Faster, Revol and This Is Yesterday.
Date published: 2015-11-03
Rated

5

out of

5
by
DavidB
from
My Gig Of The Year
Manic Street Preachers at Cardiff Castle were amazing. A superb performance of The Holy Bible and after a short interval they came back out and played a dozen more great songs. I especially enjoyed the wonderfully self indulgent classic, You Love Us, with an intro by James playing the Welsh National Anthem and 95% of the crowd singing it. A moment so patriotic I almost converted to Welsh!
Date published: 2015-11-05
Rated

5

out of

5
by
merilait
from
They played at home
I went from Spain to watch the last concert of The Holy Bible Tour and It was really worthwile,Cardiff Castle was out of this world and the fireworks at the end during A Design for Life,a perfect climax for a memorable night.
Date published: 2015-11-04
Rated

5

out of

5
by
Ems
from
Amazing gig
Had an amazing time at this manics gig. Tickets were delivered in time, and was an easy process from start to finish.
Date published: 2015-11-03
Rated

5

out of

5
by
DD99990
from
Great gig
Loved the gig was everything and more I hoped. Full rendition of the HB then classics to finish. Awesome.
Date published: 2015-11-11
Rated

2

out of

5
by
mogs
from
worse gig this year
I went with friends the atmosphere was dire wanted to leave early
Date published: 2015-11-12