Manic Street Preachers
MANIC STREET PREACHERS
is rated out of
5
by
28
.
Manic Street Preachers have announced the release of a special edition 'Everything Must Go 20' box set to celebrate the album's 20th Anniversary.
The deluxe reissue includes fully restored footage of the band's entire 1997 Nynex Arena performance available for the first time, as well as the remastered album and b-sides on CD, the album on heavyweight vinyl, an exclusive new film 'Freed From Memories' directed by Kieran Evans, the official music videos for 'A Design For Life', 'Everything Must Go', 'Kevin Carter' and 'Australia' and a 40-page book of unseen photos.
Also available will be a double CD comprising the remastered album and the Nynex Arena audio, also available for the first time.
Both box set and double CD will be released on 20th May, while 1,000 signed copies of the box set are available to preorder from the Manics' store now here: http://store.manicstreetpreachers.com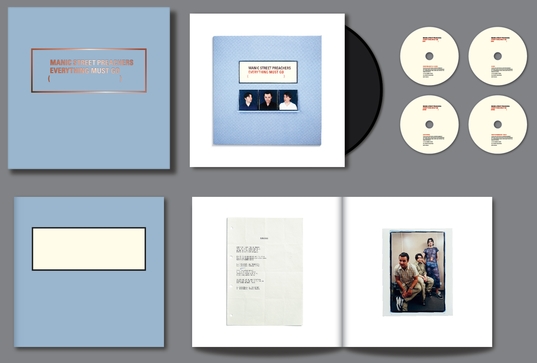 What people are saying about Manic Street Preachers
Rated

5

out of

5
by
pam56
from
A Revelation!
I purchased tickets for my husband as he really wanted to see The Manic Street Preachers at V Festival 2014 but we missed their performance. I did not know many of their songs but the gig was brilliant, great musicians and vocalists
Date published: 2016-05-15
Rated

5

out of

5
by
Huxman
from
Majestic MSP
Wow stunning brilliant more more more what a band what a stage presence what musical genius totally and utterly absorbing all this after see tickets wouldn't help me business needs to be taken else where me thinks
Date published: 2016-05-15
Rated

5

out of

5
by
Kirstea
from
One of the best moments of my life.
I was lucky enough to see my favourite band ever play one of their most iconic albums in full at both the London Roundhouse and Cardiff Castle (which was made even more special as it was on my birthday and wedding anniversary). It really was a dream come true to hear songs like Yes, Die In The Summertime and Archives Of Pain which are rarely played at other Manics gigs. I wasn't lucky enough (or quite old enough) to hear them the first time around, when Richey was still in the band. My highlights were probably Faster, Revol and This Is Yesterday.
Date published: 2015-11-03
Rated

5

out of

5
by
TheDs
from
One of, if not the best band around!
What a fantastic gig! The night started off with EDITORS, also a brilliant band, who were fantastic as always. They played a set of old and new, fresh sound but recognisable! Then, bang, on came the Manics who had the crowd in the palm of their hands! Nostalgic, poignant, energetic, and electric! The one thing a band on tour needs to know is what the crowd wants, and they didn't disappoint. A good 100minutes of rocking out and plenty of banter with the crowd. 24 hours later, I'm still completely blown away!
Date published: 2016-05-14
Rated

4

out of

5
by
mamoset
from
Manics rock at Leeds
Had never seen MSP before, got to say i was impressed. James Dean Bradfield effortlessly pulled off a great concert. Only negative from me is i think they should have closed with Motorcycle Emptiness but that's just being picky. Editors pulled off a decent set too, though woulda preferred more from The Back Room!!!
Date published: 2016-05-22
Rated

5

out of

5
by
DavidB
from
My Gig Of The Year
Manic Street Preachers at Cardiff Castle were amazing. A superb performance of The Holy Bible and after a short interval they came back out and played a dozen more great songs. I especially enjoyed the wonderfully self indulgent classic, You Love Us, with an intro by James playing the Welsh National Anthem and 95% of the crowd singing it. A moment so patriotic I almost converted to Welsh!
Date published: 2015-11-05
Rated

3

out of

5
by
Gazman12
from
Too Many Shop Dummies In The Audience
The Manics were amazing as usual. The whole experience was let down by the dreadful "atmosphere" among the crowd around us. I wasn't even sure that some of them were alive? People, you don't by a ticket for a banquet and then don't eat! Unless you are going to enjoy yourselves why bother turning up? On a positive note, Feels Like Heaven was an amazing cover version. Bring on Swansea!
Date published: 2016-05-16
Rated

5

out of

5
by
Wildandloose
from
Manics just epic
What a fantastic reproduction of the EMG album followed by some equally good songs for another hour or so, loved every minute of the show and the only downside was being sat next to a "lady" who was so drunk she spilled at least 1/3 of each of the 4 pints she had bought over me and the surrounding concert goers. That aside it was an unforgettable night. Can't wait to see them again!
Date published: 2016-05-14